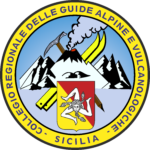 Departures planned from Piano Provenzana every day at 8:00.
Prices

:

 

100 €

per adult

–

 

95 €

per child under

12
The price included:

ticket for the 4×4 jeep (one way)

+

 

licensed

Volcanological Guide
Check for available posts in our calendar
Jan
Feb
Mar
Apr
May
Jun
Jul
Aug
Sep
Oct
Nov
Dec
Call our number: +393455741330 or send us an email to: info@guidevulcanologicheetna.it
Meeting at Guide Vulcanologiche Etna Nord office at Piano Provenzana 1800 mt
Description
Departures planned from Piano Provenzana each every day at 7:45.
Ascent with 4×4 jeeps along the panoramic street on the northern side of the volcano, till a height of 2965 mt. From this point it will start the ascent by walk on a path sorrounded by volcanic scoria and bombs. The total climb uphill is of 300 mt till we will arrive to the edge of the Central Crater of the Etna, at a height of 3300 mt. There we will stop to admire the greatness, the uniqueness and the processes of the volcanic environment, united to the spectacle of the view you can enjoy from the roof of Sicily (the visibility could change according to the weather or volcanic conditions). The downhill will be made on soft scoria and volcanic ashes, passing thorough Piano delle Concazze (at 2750 mt, the base of the Volcanological Observatory). Then we will continue inside of one of the sandy big channel, characteristics of the North-East side of the volcano and sorrounded by endemic plants and seasonal torrents, before of reaching the downhill path and the beech forest up to Piano Provenzana, arrival point of our excursion.
Included in the price:
Authorized Volcanological Guide
Jeep 4 × 4 (one way) from an altitude of 1800 m. at an altitude of 2800 m.t.
Trekking poles
Protective helmets
Accident insurance
Trekking shoes
Jackets
Excluded:
Lunch
Bottled water
Snack
Trekking shoes
K-way (rain jacket)
Windbreaker
Parking area
Schedule
Meeting at Guide Vulcanologiche Etna Nord office at Piano Provenzana 1800 mt at 7:45.
Departures planned from Piano Provenzana every day at : 8:00.
Ascent with 4×4 Jeep from Piano Provenzana.
Arrival at a height of 2965 mt.
Start of trekking till the Etna Summit Craters at 3300 mt.
Downhill on ground made by sand and volcanic scoria.
Arrival at Piano delle Concazze at 2750 mt.
Break
Continuation of the downhill inside sandy big channels and on volcanic ashes.
Arrival at Piano Provenzana, at 1800 mt.
Total time of the trekking trail: 6/7 hours
Total kilometers (round-trip): 11,2 km (it may vary)
Maximum altitude reached: 3300 mt.
Minimum altitude reached: 1800 mt.
Total climb uphill: 300 mt (it may vary)
Total climb downhill: 1500 mt (it may vary)
Difficulty: E (EXPERIENCED HIKERS)
Mandatory equipment: 
Snack/Lunch bag
Water – minimum 1,5 L
Layered outfit (short sleeved t-shirt, long sleeved or thermal t-shirt) – (it may vary according to the season)
Trekking shoes Windbreaker or quilted jacket
Hat and gloves (according to the temperature)
Recommended equipment:
Trekking sticks

K-way (rainproof jacket)

Backpack 25/30 L

Sunglasses

Sunscreen

Lip balm

Extra socks

Long pants

Rainproof jacket

Extra t-shirt

Handkerchief or bandana (to protect yourself from the dust or the volcanic gases)
Warnings:
Trekking is not recommended for those

 

who does not do physical activity regularly.
Trekking is not recommended for those

 

who does not do mountain hiking regularly.
The excursion requires a

good preparation

on a physical level. Because of it results to be a high height path, it would be easy to experience symptoms of

fatigue

.
It is required also to be careful, since it is volcanic soil, often inconsistent and unstable.
The excursion could be subjected to variations at the discretion of the Guides, or it could be interrupted in case of changes of the environmental, climatic or volcanic conditions, so as to undermine the safety of the entire group.

The total time of the trekking trail will depends on the general pace.

The excursion will be carried out according to the limits laid down by the ordinance in force.
The route is also suited for children over 10 years old.
The route consists of the ascent and the walking along the crater edges, this may cause dizziness to susceptible individuals.
This type of itinerary, in relation to the type, is suited to people in good physical health, not suffering from particular disease (it is strongly discouraged to those who suffer from

cardio-vascular problems

,

breathing problems

or

hypertension)

.
We recommend not to use contact lens, because of

 

the exhaled volcanic gases and of ash. This last one could easily cause problems, if pushed.

Pregnant women

who have passed the third month of pregnancy are not allowed to take part to any excursion activity.
For the success of the excursion and for its correct carrying out, it's good to know perfectly your health conditions and, if necessary, let the Guides know about them, in order to reduce the occurrence of any problem and to avoid any risks.
Guide Vulcanologiche Etna Nord
Email: info@guidevulcanologicheetna.it
Facebook: Guide Vulcanologiche Etna Nord 
Address: 
Via Provenzana, 35, Ufficio Guide Vulcanologiche Etna Nord, 95015 Linguaglossa CT
Tel: +39 3455741330
© Guide Vulcanologiche Etna Nord – Legge 22 aprile 1941, n. 633
Protezione del diritto d'autore e di altri diritti connessi al suo esercizio.
Our group is composed of Guides belonging to the Regional College of Alpine and Volcanological Guides of Sicily, the Italian law provides that these professional figures are the only ones qualified to lead groups in active volcanoes' areas and throughout the island territory
(Framework Law of 2 January 1989, n° 6 and Regional Law of 6 April 1996).