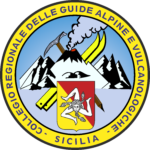 Do you need a guide to climb to the top of Etna?
Are you looking for an authorized guide to climb to the top of the Etna Volcano? Do you want to join a group already formed at an altitude of 2900 m.?. Ask us directly and according to your request we will try to help you the best! Our group is made up of Volcano Guides qualified to lead individuals or groups on National and International active volcanoes.
There are two possibilities:
1)Starting with the Guides from an altitude of 1900 m. at 08:30 at the Sapienza Refuge using tourist means of transport (such as cable car and jeep) up to a maximum altitude of 2900 m.t.
2)Join the Guides at an altitude of 2900 m.t. at 09:30 (at Torre del Filosofo) to perform the trekking of the remaining 3 km and 300 m. in altitude, up to the top of the volcano where the guide is mandatory. In this case we recommend starting from the Sapienza Refuge (on foot) at 6:30 am.
Useful tips …
If you want to live this experience, we invite you to take a look at our Home Page or our profile on Trip Advisor.In addition, in the event of an eruption, if safety conditions allow, we organize excursions to visit the active lava flows, follow us in the Special Volcano Events section !.
For more
details
or questions you can call our number: +393455741330
Article written by: Vincenzo Greco G.V.
Volcanological Guides Etna Nord Email: info@guidevulcanologicheetna.it
Facebook: Volcanological Guides Etna Nord
Address : Via Provenzana, 35, Etna Nord Volcanological Guides Office, 95015 Linguaglossa CT Tel: 3455741330
©Volcanological Guides Etna Nord – Law 22 April 1941, n. 633 Protection of copyright and other rights related to its exercise. Our group is made up of Guides belonging to the Regional College of Alpine and Volcanological Guides of Sicily, the Italian legislation provides that these professionals are the only ones authorized to lead groups in active volcanoes and throughout the island (Framework Law of 2 January 1989 No. 6 and Regional Law of April 6, 1996).