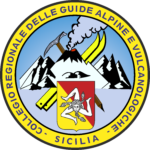 Snowshoe hike from Piano Provenzana
As a guide company we are organizing snowshoeing every day every day when a minimum of 4 participants (adults) is reached, with meeting at 9:00 am and departure at 9:30 am from Piano Provenzana.
This trek has a cost of: € 30 adults and € 20 children under 12, plus € 12 per person to be added to the cost, for rental of snowshoes and trekking poles (at authorized rentals).
DESCRIPTION 
Unique snowshoe hike in a spectacular volcanic context. The excursion begins in the snowy forest in Sicily on the Etna volcano at an altitude of 1800 meters in Piano Provenzana. The view along the route allows you to admire the sea of Guardini Naxos and Taormina, in conditions of good visibility you can even see Calabria. You will cross the lava flows of the eruptions of the north side of Etna up to the large craters that destroyed the tourist resort of Piano Provenzana. On the top of the large side craters at an altitude of 2200 meters you will have the opportunity to admire the panorama of the snow-covered volcano up to its top, always active with the emission of volcanic gases. The route is 5 km long (round trip) with a total positive difference in height of 300 meters and a total of 3 hours in duration.
Included in the price 30 €
Authorized volcanological guide

Accident insurance

Trekking shoes

Winter Jacket
Excluded from the price:
Bottled water

Ski suit

Snowshoes + Trekking poles (

12 € per person

) to rent on site, the guide will provide you with your snowshoes as soon as you arrive at the starting point of the excursion.

Snacks

Après-ski shoes

K-way (waterproof jacket)

Parking ticket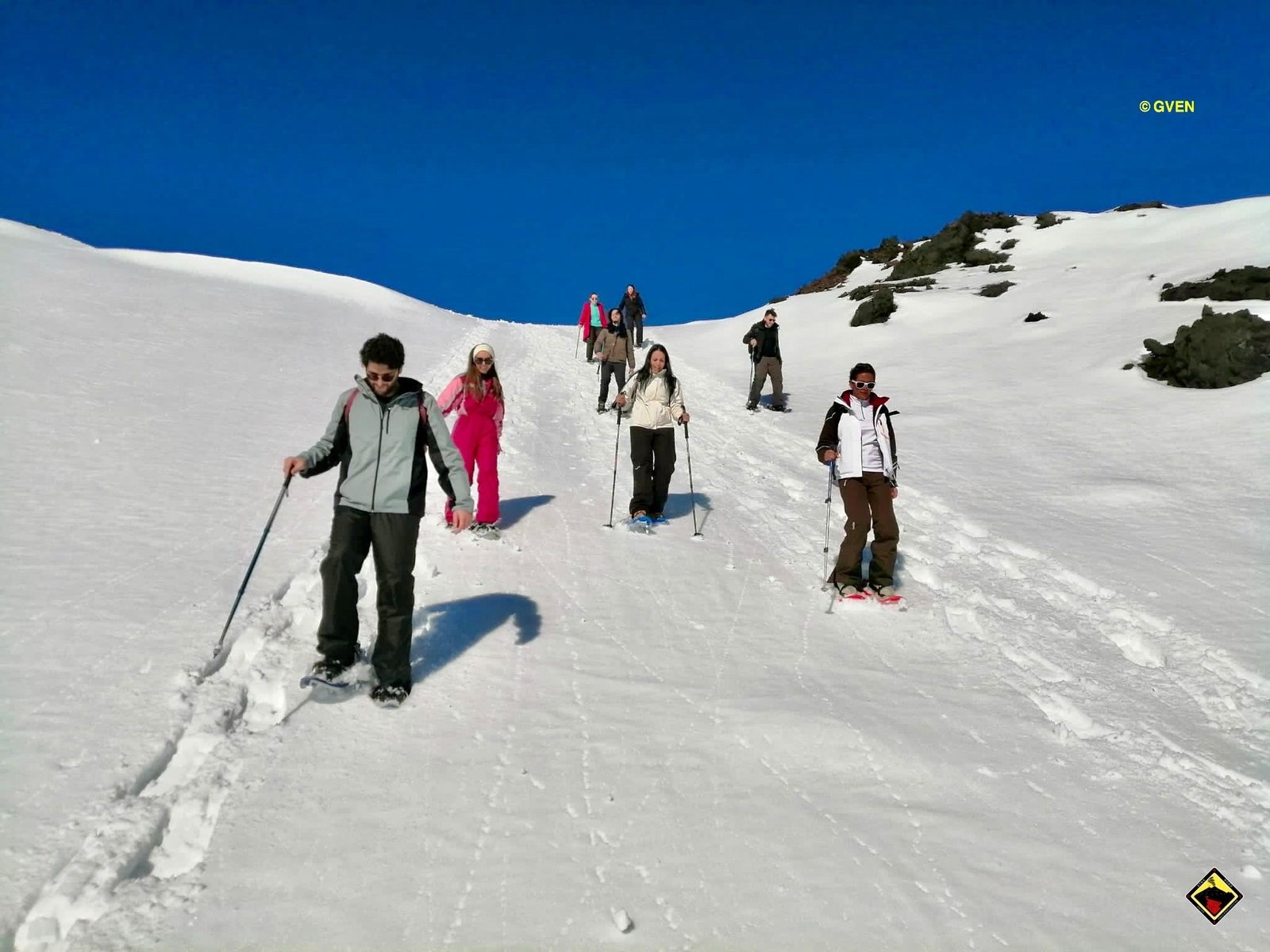 Alternative to skiing
This activity was greatly appreciated by all those who wanted to try the experience of walking with snowshoes or simply trekking on the snow-covered volcano.
Excellent choice for all those looking for a valid alternative to skiing or to classic tobogganing.

Attention, however, it is necessary to book at least one day in advance.

How and where the excursion takes place
The route starts from Piano Provenzana, which rises from an altitude of 1800 meters to an altitude of 2200 meters. It has a total duration of 3 hours, with a total of 400 meters of positive difference in height, for a distance of 5 km (round trip).
– The appointment for this excursion will be at 9:00 am at: Il KIOSCO BAR MARENEVE by Ferraro Giuseppa. By clicking on the link, Google Maps will automatically open, so you can easily get to the starting point: https://goo.gl/maps/mCLCod52m6aF9xMb6
Please note: In periods characterized by greater turnout, the meeting point could be anticipated, at 8: 45/9: 00, in order to guarantee you can find a place for your cars, given the mass of skiers arriving, and the consequent difficulty in finding parking space.
How to book?
To book, you can reply by email to the address:info.guidevulcanologicheetna@gmail.com, providing your details (name, surname, actual date of the excursion, number of participants and mobile phone number), sending a message to our number on whatsapp: +39 345 5741330 active every day from 9:30 to 19:00 or by filling out the online form (below).
WARNING: service ID(s) not found. Please check the shortcode syntax and ensure at least one of the specified services is active.

Useful information
Recommended clothing: Layered, thermal t-shirt, fleece / down jacket, windbreaker, (preferably wearing a ski suit), gloves and hat.

Compulsory equipment: trekking or après-ski shoes.

€ 12 for rent of snowshoes and trekking poles
€ 35 Rental of alpine ski equipment
We recommend that you go to the starting points of our excursions, equipped with thermal tires or chains ⛓ on board (if necessary), which are mandatory in the winter months (from 15 November to 15 April) along the roads leading to the volcano.

In the event of adverse weather conditions, we will advise you in order to communicate the cancellation or postponement of your excursion, at the earliest possible date.

There is no advance payment, you will pay our service directly on site to the mountain or volcanological guide who will be with you.
Article written by : Vincenzo Greco G.V.
Guide Vulcanologiche Etna Nord
Email: info@guidevulcanologicheetna.it
Facebook: Guide Vulcanologiche Etna Nord 
Address
Via Viola,1 – Ufficio Guide Vulcanologiche Etna Nord, 95015 Linguaglossa CT
Tel: 3455741330
© Volcanological Guides Etna Nord – Law 22 April 1941, n. 633
Protection of copyright and other rights related to its exercise.
Our group is made up of Guides belonging to the Regional College of Alpine and Volcanological Guides of Sicily, the Italian legislation provides that these professionals are the only ones authorized to lead groups in active volcanoes and throughout the island (Framework Law of 2 January 1989 No. 6 and Regional Law of April 6, 1996).