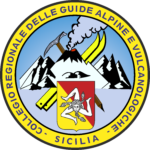 How to find a guide to climb Mount Etna
Are you looking for a guide to climb to the top of the Etna Volcano ?. Our group is made up of Volcanological Guides qualified to lead, individuals or groups on Etna and in all areas subject to volcanic events. Given the constant activity that affects Etna, if you wish to have greater security combined with accurate scientific notions from those who live, study and know the volcano, we are at your complete disposal!.
Where do we start
Our excursions depart both from the Sapienza Refuge on the southern side of Etna and from the north side of Piano Provenzana. The two stations can be reached with your personal cars, to climb even higher on the volcano you have to rely on private companies that deal with the transport of tourists. According to your requests, as a group of guides, we organize both private and group excursions, with or without tourist transport (such as cable car and jeep) – (attention the vehicles reach a maximum altitude of 2900 m). From an altitude of 2900 m. at 3300 m.t. (the summit of the volcano) the use of vehicles is not allowed, so you must necessarily continue on foot, as this is an area subject to frequent eruptions.
What to do then?
If you want to live this experience, we invite you to take a look at our Home Page or our profile on Trip Advisor.In addition, in the event of an eruption, if safety conditions allow, we organize excursions to visit the active lava flows, follow us in the Special Volcano Events section !.
For more
details
or questions you can call our number: +393455741330
Article written by: Vincenzo Greco G.V.
Volcanological Guides Etna Nord Email: info@guidevulcanologicheetna.it
Facebook: Volcanological Guides Etna Nord
Address : Via Provenzana, 35, Etna Nord Volcanological Guides Office, 95015 Linguaglossa CT Tel: 3455741330
©Volcanological Guides Etna Nord – Law 22 April 1941, n. 633 Protection of copyright and other rights related to its exercise. Our group is made up of Guides belonging to the Regional College of Alpine and Volcanological Guides of Sicily, the Italian legislation provides that these professionals are the only ones authorized to lead groups in active volcanoes and throughout the island (Framework Law of 2 January 1989 No. 6 and Regional Law of April 6, 1996).