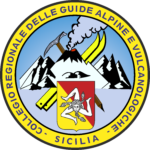 Many of you are asking us why, despite the red alert (as per the DPRC Notice) and the closure of the Summit Craters, it is still possible to book excursions to the summit craters of Etna.
As professionals authorized by law, we have been trained to carry out the most correct assessments on possible risk scenarios, with the aim of mitigating as much as possible in the event of sudden changes in volcanic activity.
These assessments allow the Guides to observe and supervise those who approach the mountains, guaranteeing fundamental and necessary safety for the territory every day.
If the risk scenarios change, the Alpine and Volcanological Guides can be authorized at any time to accompany in specific areas with all the appropriate responsibilities.
Consequentially
Given the sudden changes in volcanic activity, with the alternation of explosive phases followed by moments of tranquility in which the volcanic system returns to normal, if the phenomena in progress allow it, the supra-municipal authority, having heard the opinion of the experts of the 'INGV with regard to the type and evolution of the phenomenon in progress, it will be able to evaluate the possibility of allowing guided and programmed touristic-excursion use within the summit area, near the lava fields and eruptive vents, in safe conditions. In this case, the procedures for carrying out the visits will be established with specific measures, which will be allowed only if accompanied by personnel qualified in accordance with the law (frame 89 ') (with Alpine Guides and Volcanological Guides).
©Guide Vulcanologiche Etna Nord
Email: info@guidevulcanologicheetna.it
Facebook:Guide Vulcanologiche Etna Nord
Address
Via Viola,1 – Ufficio Guide Vulcanologiche Etna Nord, 95015 Linguaglossa CT
Tel: +39 3455741330
© Volcanological Guides Etna Nord – Law 22 April 1941, n. 633
Protection of copyright and other rights related to its exercise.
Our group is made up of Guides belonging to the Regional College of Alpine and Volcanological Guides of Sicily, the Italian legislation provides that these professionals are the only ones authorized to lead groups in active volcanoes and throughout the island (Framework Law of 2 January 1989 No. 6 and Regional Law of April 6, 1996).