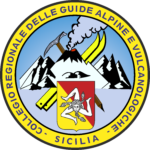 Ski mountaineering, snowshoeing and winter excursions on Mount Etna
Also this year, thanks to the collaboration with the instructors of the Linguaglossa Ski School, the Alpine and Volcanological Guides organize ; ski mountaineering, trekking and snowshoeing scheduled for the months of December, January, February and March.
What to expect:
Unique landscapes of its kind

Contrast between the snow and the dark volcanic rock

Woods, lava flows, fractures and lateral craters

View of the sea and the Summit Craters of Etna

Regenerating experience
– Given the presence of explosive activity that can be extremely dangerous for anyone near the summit area, the Civil Protection has published an Ordinance that does not allow the public to be accompanied to the summit. We must necessarily stop at an altitude of 2850 meters at Etna North and at an altitude of 2750 meters in Etna South. Given the current situation of the volcano and the rules to follow, under our responsibility (when the volcano is in a calm state) we reach an altitude of 3000 m. starting from Etna South or from the North through the use of mountaineering because of the greater snow cover.
Excursions can therefore be made, at the altitudes written above (in compliance with the ordinances and rules in force for access to the summit area of Etna); it should also be considered that the volcano is currently covered with snow starting from an altitude of 1500 meters, which necessarily implies the use of equipment during our excursions such as: snowshoes and mountaineering skis or crampons for activities above an altitude of 2200 meters for the certain presence of ice.
– All equipments can be rented on site, with the exception of crampons, especially at the tourist resort of Piano Provenzana in Etna Nord, at a cost that varies from 12 euros per person for snowshoes and 35 euros per person for mountaineering skis.

The activities to do are:
1) Excursion to Etna Sud up to an altitude of 3000 meters (

the departure is expected to reach a minimum of 6 participants

)
"Feasible if the volcano is calm on the requested date."
Here are the details:
The cost of the excursion will be 50 € per person – (CABLE CAR TICKET EXCLUDED!)
The meeting will be at 8:30 am, at the parking lot of (Esagonal bar). By clicking on the link, Google Maps will automatically open, so you can easily get to the starting point: https://goo.gl/maps/bkybAmTAULijYjbe6
The hike starts from the Esagonal bar at 1,900 meters above sea level. After making the payment and purchasing the return tickets together with your guide, you will take the cable car up to an altitude of 2,500 meters. Here you will start your uphill trek for 500 meters of positive difference in height, among the recent flows covered with snow, large craters, lava flow channels, hot fumaroles with high temperature gas leaks, up to an altitude of 3000 meters, at the base of the South-East Crater, the most active at the moment on Etna. The descent from 3000 meters is planned on foot to the cable car, for the final return to the starting point.
Included in the price 50 €
Authorized volcanological guide
Trekking poles
Helmets
Accident insurance
Extra backpack
Trekking shoes
Warm jacket
Excluded from the price:
€ 50

to be paid locally, for transport: Cable car tickets (round trip) from 1900mt to 2500mt
Snowshoes – snowshoes rental (

€ 12

 per person)
Bottled water
Ski suit
Snow boots
Snacks
K-way (waterproof jacket)
Parking ticket
TECHNICAL DATA OF THE PATH
Total duration: 5 hours
Total km: 6.5 km (variable value)
Total height difference uphill: 500 m (variable value)
Difficulty: For hikers used to walking at high altitude – E (Hikers) – (Suitable for those who perform sporting activities regularly)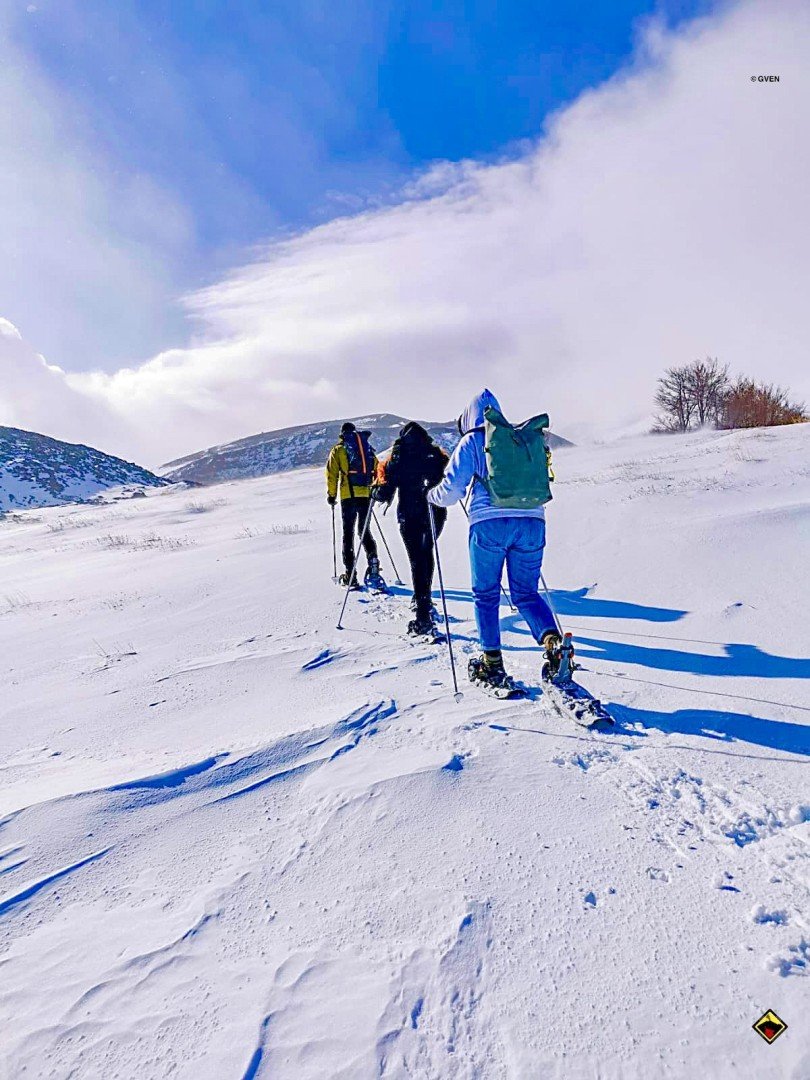 2) Excursion to the craters of 2002 (suitable also for children)
The route starts from Piano Provenzana, which rises from an altitude of 1800 meters to an altitude of 2200 meters. It has a total duration of 3 hours, with a total of 400 meters of positive difference in height, for a distance of 5 km (round trip).
Prices: € 30 for adults and € 20 for children under 12 years, plus any € 12 per person to be added to the total cost, for renting snowshoes and trekking poles (at authorized rentals).
Included in the price 30 €
Authorized volcanological guide
Accident insurance
Trekking shoes
Trekking poles
Backpack
Warm jacket
Excluded from the price:
Snowshoes rental (€ 12 per person)
Bottled water
Ski suit
Snow boots
K-way (waterproof jacket)
Parking ticket
– The appointment for this excursion will be at 9:00 am at: Il KIOSCO BAR MARENEVE by Ferraro Giuseppa. By clicking on the link, Google Maps will automatically open, so you can easily get to the starting point: https://goo.gl/maps/mCLCod52m6aF9xMb6
Please note: In periods characterized by greater turnout, the meeting point could be anticipated, at 8:45/9:00 am, in order to guarantee you can find a place for your cars, given the mass of skiers arriving, and the consequent difficulty in finding parking space.
3) Experience with ski mountaineering
If you are a mountaineer, or a connoisseur of the practice of ski mountaineering and you want to discover the volcano in winter alone, without other people, the private guide who will be alone with you, at a cost of €350 for a group of at least 4 pax up to the top 3320 meters and at a cost of €70 per person over 4 participants. In this case the guide will take you to high altitudes to discover the spectacle of the volcano's craters and snow-covered slopes with unique ski mountaineering tours.
"Doable if the volcano and weather conditions are suitable."
The equipment can be rented on site (in Piano Provenzana, link google maps: https://goo.gl/maps/mCLCod52m6aF9xMb6)
Helmet + ski mountaineering boots + skis + skins + poles at a cost of

€ 35 per person

are charged to the customer.
The block of the authorized Volcanological Guide provides for the advance payment policy as per the REGULATION reported in this article: Advance payment policy for blocking the guide
Useful information
Recommended clothing: Layered, thermal t-shirt, fleece / down jacket, windbreaker, (better if wearing a ski suit), gloves and hat.
Mandatory equipment. : trekking or after ski shoes.
€ 35 for ski touring equipment rental
€ 12 for snowshoes and trekking poles rental
We recommend that you go to the starting points of our excursions, equipped with thermal tires or chains ⛓ on board (if necessary), which are mandatory in the winter months to arrive safely on the volcano.
In the event of adverse weather conditions, we will advise you in order to communicate the cancellation or postponement of your excursion, at the earliest possible date.
There is no advance payment, you will pay our service directly on site to the mountain or volcanological guide who will be with you.
How to book?
To book, you can reply by email to the address:info.guidevulcanologicheetna@gmail.com, providing your details (name, surname, actual date of the excursion, number of participants and mobile phone number).Or we recommend sending a message to our number on whatsapp: +39 345 5741330 active every day from 9:30 to 19:00.
Article written by : Vincenzo Greco G.V.
Guide Vulcanologiche Etna Nord
Email: info@guidevulcanologicheetna.it
Facebook: Guide Vulcanologiche Etna Nord 
Address
Via Viola,1 – Ufficio Guide Vulcanologiche Etna Nord, 95015 Linguaglossa CT
Tel: 3455741330
© Volcanological Guides Etna Nord – Law 22 April 1941, n. 633
Protection of copyright and other rights related to its exercise.
Our group is made up of Guides belonging to the Regional College of Alpine and Volcanological Guides of Sicily, the Italian legislation provides that these professionals are the only ones authorized to lead groups in active volcanoes and throughout the island (Framework Law of 2 January 1989 No. 6 and Regional Law of April 6, 1996).