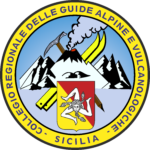 After months of Strombolian activity which affected all the Summit Craters of the Etna Volcano in alternating phases, yesterday evening the South East Crater increased its explosive activity to produce a real lava fountain. This phenomenon takes the name of paroxysmal activity, that is, violent explosions of short duration (only a few hours) accompanied by possible emissions of lava flows. This activity was also characterized by the collapse of the western portion of the crater and the consequent deepening of the fracture on the south-western flank of the cone. This collapse produced an important and consistent pyroclastic flow which rapidly expanded towards Monte Frumento. The lava emitted produced two distinct arms, one towards south east (towards Torre del Filosofo) and another towards south west (towards Monte Frumento Supino).
This eruptive event should not cause concern, it is normal eruptive phenomena typical of Etna that develop in the upper part of the volcano, therefore far from inhabited centers !.
Article written by: Vincenzo Greco G.V.
Guide Vulcanologiche Etna Nord Email: info@guidevulcanologicheetna.it Facebook: Guide Vulcanologiche Etna Nord 
Address : Via Viola, 1 – Etna Nord Volcanological Guides Office, 95015 Linguaglossa CT Tel: 3455741330
© Volcanological Guides Etna Nord – Law 22 April 1941, n. 633 Protection of copyright and other rights related to its exercise.
Our group is made up of Guides belonging to the Regional College of Alpine and Volcanological Guides of Sicily, the Italian legislation provides that these professionals are the only ones authorized to lead groups in active volcanoes and throughout the island (Framework Law of 2 January 1989 No. 6 and Regional Law of April 6, 1996).